National Services Scheme (NSS)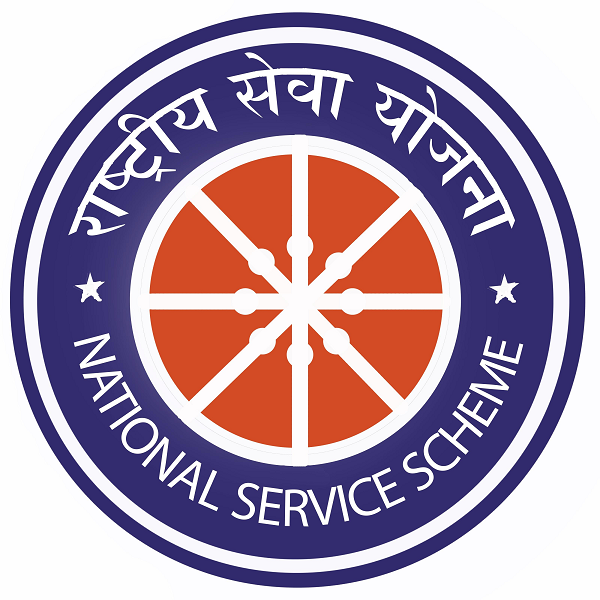 National Service Scheme (NSS) is under the Ministry of Youth Affairs and Sports, Government of India and NSS cell, Higher and technical education, Govt. of Maharashtra, and Savitribai Phule Pune University, Pune.
Year of establishment of NSS unit in the College
1973
NSS Program Officer
Mr. Pokale S. T.
Number of NSS volunteers involved
300 volunteers
Aim of the NSS
'Development of the Personality of college Students through Community Service'
Duration
Two years Programme
Program
Special Camp 7 days,
Regular Activities 120 Hrs.
Motto:
The motto of National Service Scheme is "NOT ME BUT YOU". Its meaning is, I and I have to do something for the society or for others and not for myself.
Aims and Objectives:
1. To develop a healthy relationship of students with community.
2. To identify the needs and problems of the community and involve it in problem solving.
3. To develop a sense of social and civil responsibility among students.
4. To encourage ultimate leadership qualities and democratic attitudes.
5. To inculcate skills required for group living and sharing of responsibilities.

Benefits of Being a NSS Volunteer:
A NSS volunteer who takes part in the community service programme would either be a college level or a senior secondary level student. Being an active member, these student volunteers would have the exposure and experience to be the following:
1. an accomplished social leader
2. an efficient administrator
3. a person who understands human nature
The NSS Camp Organized:
| Sr. No. | Place of Camp | Academic Year | Reports |
| --- | --- | --- | --- |
| 1 | Kurvandi | 2017-2018 | Link |
| 2 | Bharadi | 2018-2019 | Link |
| 3 | Kurvandi | 2019-2020 | Link |
| 4 | No Camp due to COVID19 | 2020-2021 | Link |
| 5 | Thapling | 2021-2022 | Link |
| 6 | Thapling | 2022-2023 | Link |
Activities Organized:
Sr. No

Name of the activity

Organising unit/ agency/ collaborating agency

Name of the scheme

Number of Beneficiary 

2021-22

1

Tree plantation to save the endangered environment and to improve florastic development of college 05/06/2022

NSS, NCC & Student Development Board Manchar

Enviromental Awareness and Conservation

30

2

Preperation and Distrubution of mask and Covid survey of society, 17/07/2021

NSS/Student Development Board

Covid-19 activity

65

3

Registration for Covid-19 and Vaccination to enroll maximum student in covid vacination  29/09/2021

NSS/Student Development Board

Karmaveer Bhavrao Patil 134 Jayanti Sohala

357

4

Cyber Crime Molistation Crime Awareness Programme- 14/12/2021

NSS

Crime Awareness Programme

200

5

Poster Presentation on Social Issues like Save Girl Child, Conservation of Nature etc. 07/03/2022,

NSS Department, AAC Manchar

NSS Camp-Thapling

150

6

Cultural Programme for entertainment and stress relief- 08/03/2022

NSS Department, AAC Manchar

NSS Camp-Thapling

150

7

NSS and Nation Building - 08/03/2022

NSS Department, AAC Manchar

NSS Camp-Thapling

150

8

Women Empowerment - 07/03/2022

NSS Department, AAC Manchar

NSS Camp-Thapling

150

9

Roll of Youth in Nation Building 04/03/2022

NSS Department, AAC Manchar

NSS Camp-Thapling

150

10

Clean Drive Activity To inculcate the sense of cleanliness among the students 04/03/2022

Nagapur Devasthan Trust

Thapling ghat cleaning and tree plantation on the occasion of NSS camp

150

11

Future in abrod -05/03/2022

NSS Department, AAC Manchar

NSS Camp-Thapling

150

12

Tree plantation and conservation of nature at Thapling 05/03/2022

Nagapur Devasthan Trust

Thapling Village cleaning and tree plantation on the occasion of NSS camp

150

13

Science and Black magic awareness- To eliminate superstitions 04-03-2022

Nagapur Devasthan Trust

Abolition of Andhrasraddha

150

14

Tree plantation and Seed Ball Distribution- To increase green cover across ambegaon tashil especially drought affected areas 15-05-2022

NSS and student walefare department

azadi ka amrit mahotsav

45

15

Shivjayanti Sohala- to conservation of fort and for the world to know the life work of Shivaji Maharaj 19/02/2022

NSS and student walefare department

On the occasion of Shiv jayanti

500

16

A heartfelt tribute to Lata Mangeshkar 10-2-2022

NSS, Student Development Board Manchar

A heartfelt tribute

1648

17

Savitribai Phule Jeevan ani samajeek karya 14-02-2022

NSS

On the occasion of Savitribai Phule Mahotasav

76

18

Azadi Ka Amrit Mahotsav celebrated to pay homage to India's freedom movement and freedom fighters-11/08/2021

NSS and student walefare department

75 years of independence of progressive India

45

19

Celebration of Yoga Day- to raise awareness worldwide of the many benefits of practicing yoga 21/06/2021

NSS, NCC, AAC Manchar

 International Yoga Day-21 June

18

20

Bull ghat Construction-04/03/2022

NSS Department

NSS Camp-Thapling

150

21

Clean Drive Activity-To inculcate the sense of cleanliness among the students 05/03/2022

NSS Department

NSS Camp-Thapling

150

2020-21

1

Lockdown activities - Covid-19 outbreak and precautions to be taken   12/09/2020                         

NSS/Student Development Board  

Public Awareness Campaign

110

2

Rayat Covid Centre Opening -20/09/2020

NSS/Student Development Board  

Covid-19 activity

12

3

Coconut tree plantation-27-06-2020

NSS/Student Development Board

Tree Plantation

37

4

Mango Tree Plantation-15-08-2020

NSS/Student Development Board  

Independent Day

78

5

Covid-19 outbreak Control- Preperation and Distribution of mask 19.04.2020, 09-05-2020

NSS/Student Development Board  

 Awareness Campaign

24

6

Blood donation camp -21-09-2020

Physical Education/NSS/NCC/Student Development Board

Dr. Karmaveer Bhaurao Patil Jayanti Week

25

7

Cleaning of Campus activty- 24-09-2020

NSS/Student Development Board 

 Karmaveer Jayanti Week

25

8

Online lecture on Vililance Awareness 2-11-2020

NSS Department

Vililance Awareness week on COVID-19 situation

18

9

  Minority Rights Day -18-12-2020

NSS/Student Development Board 

World Minority Rights Day

12

10

 Blood donation camp 04-01-2021

Physical Education/NSS/NCC / Student Development Board

Fight against Covid-19

30

11

covid 19 outbreak and precaution to be taken 12-09-2020

NSS Department

Covid-19 activity

110

2019-20

1

Yoga day Awareness & Celebration 21/06/2019

NSS, Annasaheb Awate College, Manchar, Pune

Yoga Day Awareness & Celebration

188

2

Jagar Vasundarecha: Street Play on "Nature Conservation" on the occasion of Independence Day15/08/2019

NSS, Annasaheb Awate College, Manchar, Pune

Nature Conservation

25

3

Covid Awareness Programme - 20/04/2020

NSS, Annasaheb Awate College, Manchar, Pune

Covid-19 activity

10

4

Celebrating "RakshaBandhan" with childrens of Orphan School, Palastika & MukBadhir Shala, Narodi 16/09/2019

NSS, Annasaheb Awate College, Manchar, Pune

Social Awareness about Orphan Child

22

5

"Nirmalya Kund Abhiyan" on the occasion of Ganesh VisarjanPlace- Kalamb, Nirgudsar&chandoli.12& 23/09/2019

NSS, Annasaheb Awate College, Manchar, Pune

Avoide Water Pollution

15

6

Blood Donation and Hemoglobin Checking 24/09/2019

NSS, Annasaheb Awate College, Manchar, Pune

Donate Blood- Save Life

160

7

 Walkathon Marathon Competition to aware about healt 15/09/2019

NSS, Annasaheb Awate College, Manchar, Pune

Health awareness programme

30

8

Signature campaign under Voting Awareness 19/10/2019

NSS, Annasaheb Awate College, Manchar, Pune

Voting Awareness

114

9

Voter selfie campaign under Voting Awareness 19/1012019

NSS, Annasaheb Awate College, Manchar, Pune

Voting Awareness

119

10

NSS Special Winter Camp, 21/12/2019 to 28/12/2019

SPPU Pune, NSS, Annasaheb Awate College, Manchar,  B.D. Kale College, Ghodegaon, Pune with Kurvandi Village

17) NSS Special Winter Camp, 21/12/2019 to 28/12/2019

150

11

Health Checkup Camp of Villagers 22/12/2019

SPPU Pune, NSS, Annasaheb Awate College, Manchar,  B.D. Kale College, Ghodegaon, Pune with Kurvandi Village

first aid training and health education camps in the rural areas

150

12

 Gram Swachhata v Survey 23/12/2019

SPPU Pune, NSS, Annasaheb Awate College, Manchar,  B.D. Kale College, Ghodegaon, Pune with Kurvandi Village

Gram Swachhata v Survey

150

13

 Construction of "VanraiBandhara"24/12/2019

SPPU Pune, NSS, Annasaheb Awate College, Manchar,  B.D. Kale College, Ghodegaon, Pune with Kurvandi Village

conservation of water

150

14

Tree Plantation25/12/2019

SPPU Pune, NSS, Annasaheb Awate College, Manchar,  B.D. Kale College, Ghodegaon, Pune with Kurvandi Village

Tree Plantation25/12/2019

150

15

Road Repairing & Renovation 25/12/2019

SPPU Pune, NSS, Annasaheb Awate College, Manchar,  B.D. Kale College, Ghodegaon, Pune with Kurvandi Village

Road Repairing & Renovation 25/12/2019

150

16

Poster Presentation on Social Issues like Save Girl Child, Conservation of Nature etc. 26/12/2019

SPPU Pune, NSS, Annasaheb Awate College, Manchar,  B.D. Kale College, Ghodegaon, Pune with Kurvandi Village

Poster Presentation on Social Issues

150

17

Awareness Rally on Social Issues like Save Girl Child, Conservation of Nature etc.26/12/2019

SPPU Pune, NSS, Annasaheb Awate College, Manchar,  B.D. Kale College, Ghodegaon, Pune with Kurvandi Village

Rally on Social Issues

150

18

Awareness Lecture on Role of NSS in Gram Partivartan- By Rama Joshi (Tahsildar, AmbegonTaluka) 21/12/2019

SPPU Pune, NSS, Annasaheb Awate College, Manchar,  B.D. Kale College, Ghodegaon, Pune with Kurvandi Village

Awareness Lecture on gram parivartan

150

19

Awareness Lecture on "Road Safety Rules" By Dr. ShrikantFulsundar (ACS College Narayangaon) 22/12/2019

SPPU Pune, NSS, Annasaheb Awate College, Manchar,  B.D. Kale College, Ghodegaon, Pune with Kurvandi Village

"Road Safety Rules" awareness programme

150

20

Awareness Lecture on Sandalwood Farming- By MahendraGharge (Social Worker) 23-12-2019

SPPU Pune, NSS, Annasaheb Awate College, Manchar,  B.D. Kale College, Ghodegaon, Pune with Kurvandi Village

Sandalwood Farming

150

21

Awareness Lecture on "The Effect of Media on Society"-By Anil Katale (Journalist, Pune) 24-12-2019

SPPU Pune, NSS, Annasaheb Awate College, Manchar,  B.D. Kale College, Ghodegaon, Pune with Kurvandi Village

The Effect of Media on Society

150

22

Awareness Programme on "Bharud- The Medium of Social Change: By Anil Kengar 25-12-2019

SPPU Pune, NSS, Annasaheb Awate College, Manchar,  B.D. Kale College, Ghodegaon, Pune with Kurvandi Village

"Bharud- The Medium of Social Change

150

23

Superstition Eradication Programme -By Prakash Shirole 26-12-2019

SPPU Pune, NSS, Annasaheb Awate College, Manchar,  B.D. Kale College, Ghodegaon, Pune with Kurvandi Village

Elimination of superstitions

150

24

Kargil Vijay Divas 26/07/2019

NSS, Annasaheb Awate College, Manchar, Pune

To salute the kargil died

123

25

Awareness rally about Girl and Nature

NSS, Annasaheb Awate College, Manchar, Pune

Kurawandi- Special winter camp

150

26

Road Safety awareness programme-22-12-2019

NSS, Annasaheb Awate College, Manchar, Pune

Kurawandi- Special winter camp

150

27

Participation in Distribution of Tree Sampling- Guinness World Record 23/06/2019

NSS, Annasaheb Awate College, Manchar, Pune & SPPU Pune

Distribution of plant

125

28

Celebration of Constitution Day 26/09/2019

NSS, Annasaheb Awate College, Manchar, Pune

Celebration of Constitution Day

156

29

Plastic Free Campus 02/04/2020

NSS, Annasaheb Awate College, Manchar, Pune

Plastic Management

67

30

Tree Plantation in Campus to increase oxygen -18-07-2019

NSS, Annasaheb Awate College, Manchar, Pune

To increase oxygen hub in campus

56

2018-19

1

Yoga Day Celebration 21/06/2018

NSS Department, NCC, Annasaheb Awte College Manchar

Health awareness programme

160

2

Organ Donation Campagin 06/08/2018

NSS Department, Rotary Club Manchar, Annasaheb Awte College Manchar

Donate organ -Save Life

151

3

Street Play Jagar Vasundarech 15-08-2018

NSS Department, Student Development Board Manchar Annasaheb Awte College Manchar

Nature Conservation

1000

4

Disaster Management  training 29/07/2018

NSS Department, Annasaheb Awte College Manchar

help the youth understand how to anticipate, absorb and adapt to such event

145

5

Rakshabandan at Police Station- 26/08/2018

NSS Department, Annasaheb Awte College Manchar

Empowerment of Women

20

6

Poster Competition on conservation of water, tree and save girl- 05/10/2019

NSS Department, Student Development Board Manchar Annasaheb Awte College Manchar

Educating Villagers and Spreading Awareness

150

7

Old and New Coin Exhibition-06/1/2019

NSS Department, Annasaheb Awte College Manchar

Economy Awareness

350

8

Anti-Superstition and Black Magic Awareness Programme- 07/1/2019

NSS Department, Annasaheb Awte College Manchar

Black Magic Awareness

150

9

Tree Plantation and Conservation of Tree- 09/01/2019

NSS Department, Annasaheb Awte College Manchar

To make Oxygen Hub at Bharadi Village

150

10

Vrukshadindi and Jagar Vyasanmukti-09/01/2019

NSS Department, Annasaheb Awte College Manchar

Save Nature Save Life

150

11

Snakes, Society and Misconceptions-09/01/2019

NSS Department, Annasaheb Awte College Manchar

Villager and students awareness about snakes

150

12

Organic Farming Awareness programme

NSS Department, Annasaheb Awte College Manchar

To avoid pesticides

150

13

Tree Plaantation Drive 29/07/2018

NSS Department, Annasaheb Awte College Manchar

Conservation of  Plants

48

14

Campus Cleaning &  Tree Planation Drive 29--07-2018

NSS Department, Annasaheb Awte College Manchar

Mala Sanskar Havet

180

15

Campus Cleaning -15/08/2018

NSS Department, Student Development Board Manchar Annasaheb Awte College Manchar

College Campus Cleanliness Campagin

65

16

Campus Cleaning Drive -16/09/2018

NSS Department, Student Development Board Manchar Annasaheb Awte College Manchar

College Campus Cleanliness Campagin

160

17

Road Safety Awareness Program on 17/01/2019

Department of Student Welfare and NSS Department, Annasaheb Awte College Manchar

Road Safety Awareness Program

60

18

Voter's Awareness Program on 25/01/2019

Department of Political Science and NSS Department, Annasaheb Awte College Manchar

Voter Awareness Rally

135

19

Survey of Bharadi, Tal-Ambegaon, Dist-Pune

NSS Department, Annasaheb Awte College Manchar

NSS Camp activity-2019

150

20

Lok Sabha General Election 2019 Voting Awareness Campaign under Taluka Ambegaon- 14/03/2019

NSS Department, Annasaheb Awte College Manchar

Voting awareness campaign

180

21

Motivation Speech on "Management of Mumbaiche Dabewale" on 21/09/2018

NSS, Rotary Club, Manchar and Annasaheb Awate College, Manchar

Social Awareness

200

22

NSS Day Awareness 24-09-2018

NSS Department, Annasaheb Awte College Manchar

celebrates National Service Scheme Day

160

23

Mahatma Gandhi Jayanti Rally and Awareness 02-10-2018

NSS Department, Student Development Board Manchar Annasaheb Awte College Manchar

Swachh Bharat Mission

70

24

Mahatma Gandhi Jayanti Cleaning Drive 02-10-2018

NSS Department, Student Development Board Manchar Annasaheb Awte College Manchar

Swachh Bharat Mission

130

25

Run for unity Celebration of State Government Festival -19/02/2019

Department of History, NSS Department, Annasaheb Awte College Manchar

Shiv Jayanti Program: "Run For unity"

35

26

Nirmal Kund Abhiyan - 23/09/2018

NSS Department, Annasaheb Awte College Manchar

Ghod River Cleaning Drive

26

27

Law awareness lecture purpose in college-04-02-2019

NSS Department, Annasaheb Awte College Manchar

the empowerment of individuals regarding issues involving the law

47

2017-18

1

Anti AIDS rally- 01-12-2017

NSS Department, Annasaheb Awte College Manchar

AIDS Awareness Programme

300

2

Lecture on Gender Eqality- 15-12-2017

NSS Department, Annasaheb Awte College Manchar

Gender awareness programme

150

3

Campus Cleanlinss programme-02/10/2017

NSS Department, Annasaheb Awte College Manchar

Campus Butification Drive

200

4

Water Shade Management -17-12-2017

NSS Department, Annasaheb Awte College Manchar

Water Conservation Activity

150

5

Tree Plantation-27-12-2017

NSS Department, Annasaheb Awte College Manchar

To Incrase Oxygen Hub

150

6

Yoga Day Celebration 21/06/2017

NSS Department, NCC, Annasaheb Awte College Manchar

Health awareness programme

210

7

Legal Awareness, Women Grievance Redressal Campaign 04/02/2018

NSS Department, Annasaheb Awte College Manchar

Women Empowerment Programme

500

8

Jal Dindi Water Conservation Programme-Namami Chandrabhaga 24-09-2017

NSS Department, Annasaheb Awte College Manchar

awareness programmes on water conservation

128

9

Rakshabandan at Police Station-07-08-2017

NSS Department, Annasaheb Awte College Manchar

Empowerment of Women

20

10

Tree plantation and ford conservation- 27-07-2017

NSS Department, Annasaheb Awte College Manchar

Historical place preseravtion

162
---
Photo Gallery
---
Media Gallery